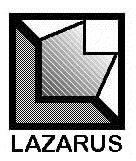 Lazarus Records Discography
LAZ-001. The Musical Chairs: Watercolor.
The first album by two of the members of Paste, Lars Christensen and Russell Wiener. Recorded March-May 1995, released June 1995. All songs written, performed, recorded, and produced by the Musical Chairs. Click here for the newsletter published soon after its release, including descriptions and information. Thirteen songs, 66 minutes. Full color cover, chrome tape. $6.


Track listing:

Nova
Ala Melodi
Pine
Dreams and Visions
Zebralith
Music Box
Pavane
When the Monsoons Come
Wait Until Dawn
Ghost Stories
Distant Rains
Downstream
Mosaic

LAZ-002. 299.
Russell Wiener's solo album, with special guests. Recorded Spring 1996, released May 1996. All songs written and produced by Russell; performed by Russell (mainly), Lars, Josh Lee, Brian Cox; engineered by Russell, Allison, Mike Sawitzky, Brian Cox, Brent Pierson, and Jacob Weber. Ten songs, 34 minutes. Black-and-white cover, chrome tape. Free with purchase of other Lazarus projects. Track listing:

You'll Be Back
Don't Put Me On Hold
Bad Idea
In the Corner
Solitude
Roadside Dreams
Spiral
View From Below
Space
Endsong
Also available:

Paste. Timber and Stone.
The last album by Paste, on the now-defunct Mystery Harbour Records label. Members: Lars Christensen, Keith Turausky, and Russell Wiener. Recorded Spring 1994, released May 1994. All songs written, performed, recorded, and produced by Paste. Sixteen songs, 63 minutes. Full-color cover, chrome tape. $8.


Track listing:

One Part Per Million (3:45)
11 Weeks (6:11)
Country Dumb Song (2:29)
Butterflies (2:30)
Casual Water (2:52)
The Forest Dream
I. Lief (2:13)
II. Tree (3:23)
Knife Canyon (Penzoritatio) (4:12)
Transmission -G- (3:12)
Gordon Puzzles and an Artist Maybe (3:50)
Well of Coins (3:24)
Goblin (2:58)
Caliphate of Cairo (6:20)
Interlude #2 (1:44)
Forgotten (3:47)
The Season (2:56)
Rising F[r]og (4:24)
Paste's first album, Locria, is also available for those truly interested. It is likely to be remastered this year by Russell, so look for the re-release. More information on this and other upcoming projects, go to the upcoming projects page.

This page is managed by Lars. Send him all your comments at